Painting 30″ x 40″
Belizean/American artist Carolyn Carr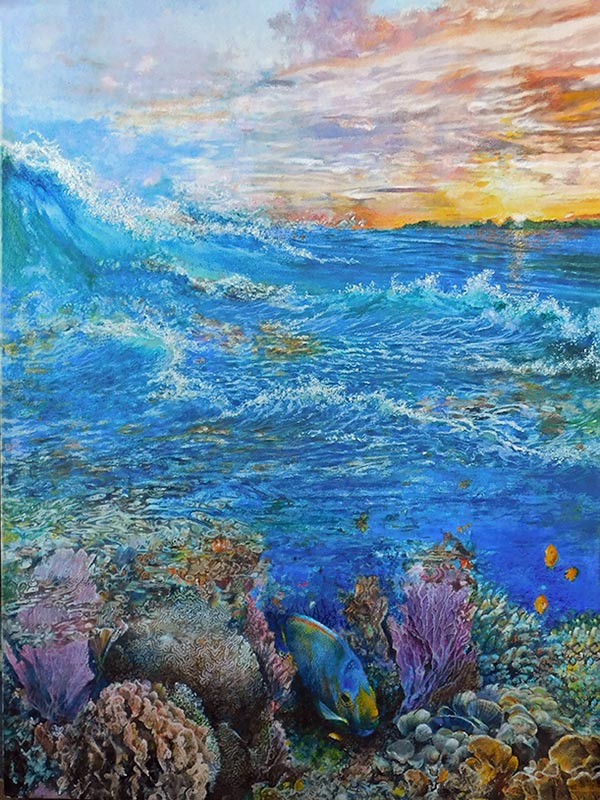 Carolyn, her husband John, and two daughters began their Belize Adventure in 1973. They purchased Banana Bank Ranch near Belmopan.
For 10's of thousands of tourists, travelers, investors, divers, fishermen, snorkelers, and artists, all are overpowered by the calm beauty and mysterious violence of the Caribbean ocean. That sums up the artist's vision as she spent almost a year planning and plotting the mixing of colors and brushes in order for Chaotic Calm to become a reality.
There really are four parts to this effort-(1) an exceedingly violent set of waves breaking toward a small island where there are some barely visible small structures. (2) The huge waves somehow melt into a quiet and very welcoming sandy beach. (3) The calm of the underwater separates chaos and becomes a great habitat for angel fish, coral, and a myriad of underwater ocean life. (4) And then, a sunset sky, that somehow promises another coming day and we will realize chaotic calm all over again.
Process And Painting of Chaotic Clam
In order to achieve this piece of art Carolyn squeezed out raw color from 20 different tubes of paint onto her pallet arranging it in a color wheel fashion in order-red, yellow, blue, etc. The mixing of these 20 colors together coordinated to achieve Chaotic Calm. At the end of the day, there may be more than 500 mixes and hues to achieve Chaotic Calm.
This artist and other successful artists hardly ever know what exactly is going to happen. She cannot plan exactly how she will use 30 different brushes and 500 varying colors to successfully achieve "Chaotic Calm".
Have you ever thought of the fact that "It is impossible to successfully photograph this composition: underwater, distance, sky, waves and have ocean surface and underwater seen at the same time. Waves, sky, coral — your eyes then mix it all together and your vision begins to circle and go back and forth. Then you ask yourself "What is my favorite part of the painting?"